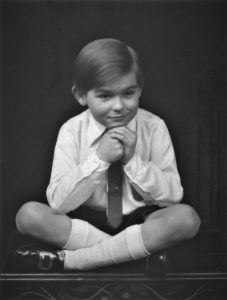 Sir James Colyer-Fergusson was born in 1917, the only child of Max Christian Hamilton Colyer-Fergusson and Edith Jane, née White Miller.   He was a kind, gentle and generous man.  As a boy Sir James lived at Ightham Mote and he was educated at Harrow and Balliol College, Oxford.   He then enlisted as a Captain in the East Kent Regiment and was taken prisoner of war in 1940.  His working life was spent in railways, becoming Passenger Officer to the South East Division of British Rail's Southern Region, and later Parliamentary and Public Correspondent to the British Rail Board.  He was passionate about trains and their timetables, and travelled everywhere by rail if he possibly could.  Sir James' other passions were Kent, its people and the preservation of its churches.  His inheritance of family estates allowed him to establish a charitable Trust in 1969 to make grants to support the communities he was so passionately committed to.  After a short illness Sir James died on the 9th January 2004. 
Since its inauguration the Trust has made grants to charities and churches in Kent, backing innovative ideas and visionary individuals.  A wide range of grants has been made, from a few hundred pounds to several million.  The Trust believes that each is important, from the smallest grant helping a young person to secure their first job, to the Trust's large grants funding the construction of flagship community buildings and major projects.  
In 2010 the trustees took the important decision to share more of the Trust's assets, spending capital as well as income in full recognition that this could impact on the Trust's ability to make grants in perpetuity.  The Trustees believe that tackling today's socio-economic problems is of paramount importance.   Moreover, making grants to support the people of Kent today will empower them to be well-placed to tackle the problems of tomorrow.
Sir James was an extremely modest man who never sought profile or publicity for his philanthropy, but through the work of the Trust his name will live on as a fitting and permanent memorial to his generosity and philanthropy.