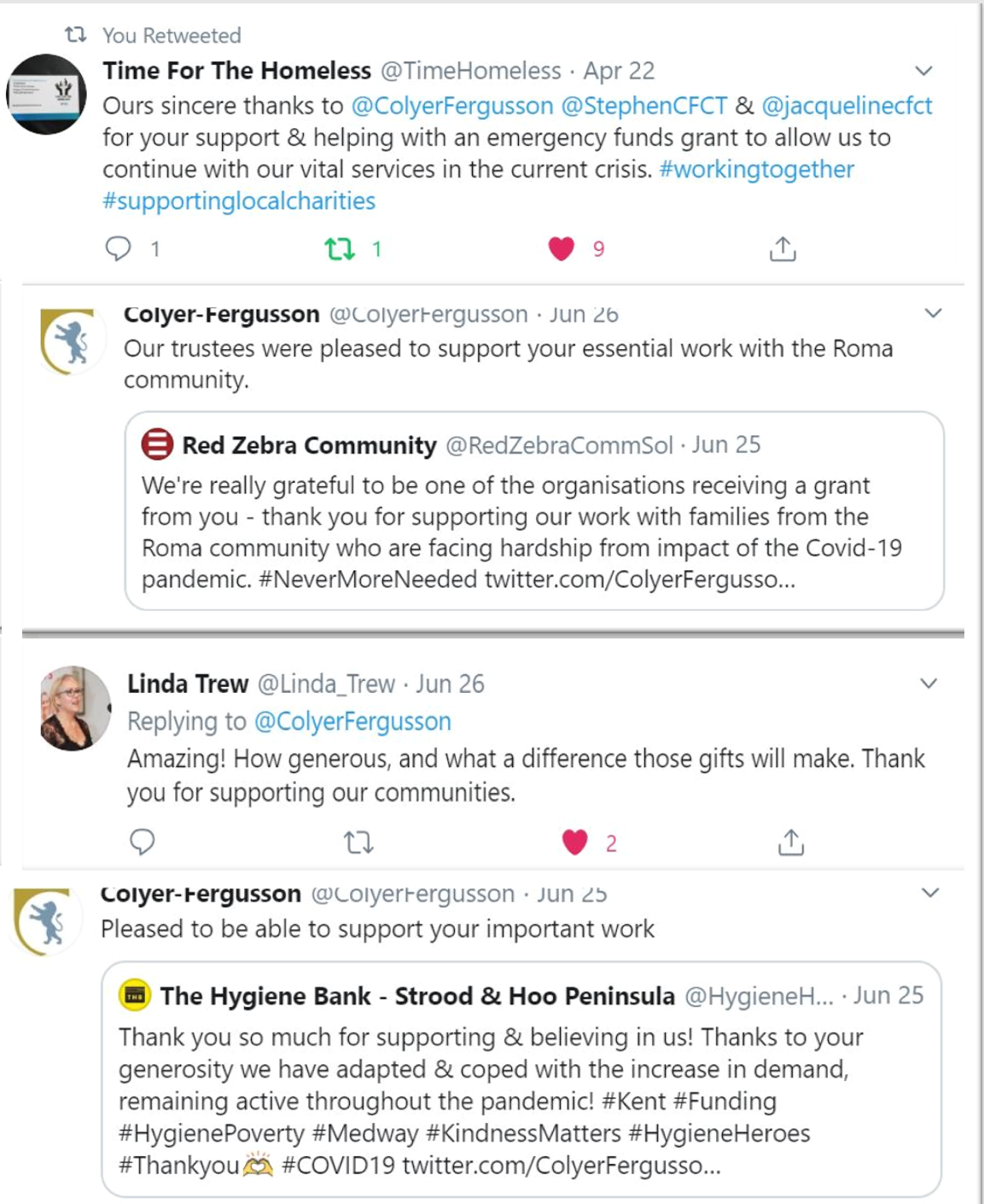 At an emergency meeting the trustees allocated a significant extra amount of grant funding to CFCT's Investing In Communities Core Cost Grant Programme whilst at the same time broadening the grant criteria to allow more accessibility.  In responding to feedback this included opening the fund to larger income organisations whilst also facilitating smaller awards which went directly to families in hardship.  Some of the beneficiaries included those who have lost family members to Covid-19 or been made redundant.
CFCT reached out to current grant holders offering the opportunity to bring forward grant payments and re-purpose funds, utilizing awards to meet immediate need.  Healthy conversations were held around how challenges could be met and how CFCT  can support   partners moving forward.  Key in this approach was reassuring  organisations that  CFCT is here to help.  Social media comments show that this approach was appreciated:
Case Study: Age UK – Concern Consortium – Kent led by Age UK Sevenoaks & Tonbridge.  A large grant was awarded to a consortium of Age Concern centres, which benefitted a total of 15 organisations across Kent. All of the centres have experienced a significant drop in their income because of the closure of their shops and suspension of their activities.  At the same time they faced increased demand and costs associated with adapting their services to deliver remotely.
As a trust we've aimed to be responsive, transparent, and efficient in the grant making processes.  From 3rd April to 3rd June the trust made awards totalling £573K which benefitted 79 charities.  During this period, a further 75 emergency payments were made to young people and their families to help them cope in these difficult times.